Here at Outcall Asian Massage, we provide professioanl Adult nuru Massage by qualified oriental masseuses(From different Asian countries). We offer wide range of services to relax and sooth away your stress after long day at work . We are available for Outcall Massage(Central London & Heathrow) & In call Massage services at our luxury private massage parlour in central London. Our guaranteed service assure you, that you will be pampered and completely relaxed in the experienced hands of our professional&Stunning masseuses.
About the Nuru Massage in London
The Nuru Massage uses a special gel which is made from deep seaweed and is colourless, tastless, and extremely slippery and smooth.We offer best nuru massage services, there are many massage parlors available in London with licensed massage therapists.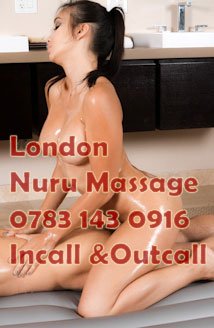 What is a Nuru Massage? The word NURU in Japanese means "slippery". Nuru massages use a special gel which is made from deep seaweed which is colorless, tasteless, and extremely slippery and smooth. The masseuse will rub your entire body with the nuru nuru and slide on you from all imaginable angles for a perfect stimulating body to body massage. Nuru massages and seaweed body wraps gained popularity for their ability to cleanse and detoxify the body, making it an excellent herbal body treatment.
The skin absorbs the minerals contained in the nuru gel that are essential for restoring its tone and vitality. Seaweed body wrap applications are excellent for cellulite, connective tissue debility with water retention, slackened dermal tissue after pregnancy and after intensive slimming treatment. The nuru gel contains Chamomile Azulene which increases the peripheral circulation of the skin while giving it increased flexibility, softness, and restores healthiness to sensitive skin that suffers from inflammation & irritation.
During your nuru massage session, our talented girls know exactly where and how to touch to make the experience unique. And special oil will make you feel the happiest man in the whole world. You can easily conduct nuru massage London at any time of day.
Our NuruGuru verified London Nuru massage from only 130 one hour.