At Oriental bliss sensual massage London, your satisfaction is GUARANTEED. During the sensual massage service, customer needs to follow to certain rules. To guarantee a satisfying massage experience for both you and the masseuse, we have set a code of conduct. This code of conduct and its rules will prevent any awkward or unpleasant situation for both you and your masseuse.
We kindly ask you to observe these basic rules:
Have a proper shower prior to the massage treatment
Set room temperature at a comfy level
Be alone in the room during the massage
Be free from the influence of alcohol and/or drugs
Settle the exact fee, including taxi fare, upon arrival of the masseuse
Stay passive and refrain from touching the masseuse during the massage
Refrain from asking for any kind of 'extra services'
Refrain from asking her private number
Allow your masseuse to shower after the treatment
Provide a clean, large size towel to the masseuse
Cancellation upon your masseuse's arrival or during the session incurs a 200 sterling penalty fee.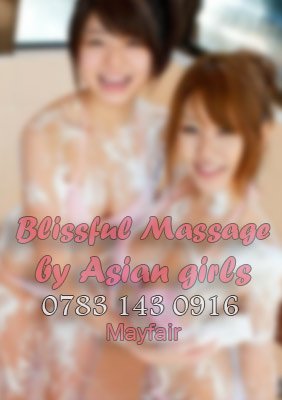 Misbehaviour might result in an immediate termination of the massage session without any financial compensation. Misbehaviour will also result in a permanent ban from future use of our services.
Best Erotic Massage in London
A happy customer is a satisfied customer. He is respected by our receptionists and our masseuses. He feels he is treated rather as a friend than as a customer.
1O Tips for happy customer experience:
Make your reservation in time. Allow a reasonable notice. One hour is fine, but if you allow a bit more time, your relaxation is so much more intense.
Be modest with alcohol prior to your massage. A few drinks are fine, in fact it might attribute to feeling already relaxed even before your massage has begun.
Allow yourself a nice hot shower and wash yourself thoroughly, including your intimate places.
Consider the ambience. Dim the lights, put on some music, make sure the room temperature is at a comfy level.
The massage will take place on your bed. Have a few extra pillows standby. Your masseuse may use them to support your body parts for a better relaxation.
Prepare the payment. Put it in a discreet place or in an open envelope. Consider it a donation to someone who really cares for you.
Be relaxed. Be open to a pleasant surprise and let things happen as they come.
Welcome your masseuse as you would like to be welcomed. Make her feel at home. Offer her a drink and spend a few minutes getting to know each other. She will enquire about how you like your massage and make preparation for the things to come. Let her use your bathroom to change dress – you will love her hot body wrapped in sexy lingerie.
Lie yourself down on your belly and relax. Let go. Enjoy her warm hands gently touch your body.
We are sure you will like the massage. We are sure you will get sexually aroused. The sensual stimulation of erotic and tantric massage will take you into a sexual mood. Your masseuse will understand. She will even understand that your male instinct gets active. But be strong and stay passive. Relax. Let your masseuse do the work.
She will stimulate all of your erotic senses. Your body will scream for more. Stay passive; allow her to take the lead. Discover the pleasure of erotic touch without the usual urge to perform.
The liberation of your sexual energy will excite you. Give in. Let your masseuse enjoy your excitement. Let her choose the moment to release. Let her caress your stress. She will love it and so will you.
Self-control and let go is not for everyone. But those who can do it, they are the happiest customers.
/wp-content/uploads/2016/04/logo-2016.png
0
0
London Asian massage expert
/wp-content/uploads/2016/04/logo-2016.png
London Asian massage expert
2015-04-14 13:58:38
2015-04-14 13:58:38
Enjoy a perfect Adult massage